By Kendra Holliday | April 26, 2020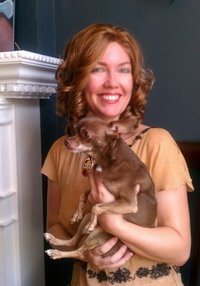 This Chihuahua is scared of me
Ed Note: I wrote this back in 2011. Do you think things have improved since then?
I was talking with a friend about my constant struggle to be understood. He mused:
"You are caught between society's fascination with sex and its horror of it. In a weird way, you're more dangerous and threatening than a porn star. Porn stars, we believe, are actually motivated by a love of money and fame, which motivates the rest of us, and thus is socially acceptable. But you're different.
You post pictures of yourselves being fisted because you like being fisted, and you want the rest of us to know about it. And that's threatening, because – we are all haunted by sexual desire, by appetites that we are all constantly trying to control, and you pride yourself on someone who doesn't limit her appetite at all… who completely indulges.
Your message is, to quote you, 'You can have it all…' you can indulge all your secret desires, completely, to excess, and suffer no consequences. People interpret that, emotionally, like someone saying, You can drink all you want, gallons of vodka a day, and still be fine! Somebody like that would be laughed at. But you're scary, you're emotionally dangerous,
Because most people don't want to drink a bottle of vodka a day. But many people DO desire to have a lot more sex. And you're indulging that desire, regularly, publicly, and it seems… threatening. Crazy. We're supposed to have limits! We're supposed to be responsible!
Let's face it, you are not superficial, where most people prefer to keep things. You are very real."
Hmm. And this is very interesting.