By Kendra Holliday | June 3, 2011
Two feet of hair!
See this long, beautiful hair of mine?
I shaved it all off last month. Right now it's sitting in a plastic bag in my closet. I'm not yet sure who will own it next.
I had the same hairstyle for the last six years. I got it trimmed about once a year, never colored it. It was100% natural.
And I was 100% tired of it.
I was going to shave it three years ago, but then I went through a breakup and there was too much going on, so I put it on hold.
These days I STILL have too much going on, but it's all great, transformative stuff. It was finally the right time.
This seemed a good time to reinevent myself, rebirth, make a big change on my own terms. So many women lose their hair due to illness, and I wanted to experience it at my healthiest.
Why shave my head?
I haven't been bald for 38 years. I wanted to experience it.
I dared myself to do it.
I wanted a blank slate.
I wondered what was under all that hair – did I have horns? Was my head scaly? Bumpy?
I wanted a drastic change that would be safe, sane, reversible and legal. To me, shaving your head makes more sense than getting a tattoo. I don't think I'll ever get a tattoo – they're too permanent, and I'm too fluid.
I love change and challenging stereotypes.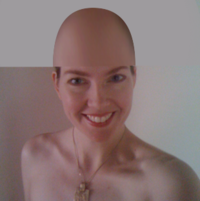 This was my digital rendition
of how I would look bald
Long hair is the norm for women. The book Why Beautiful People Have More Daughters explains a theory for this: men like being able to see evidence that a woman has been healthy for the past few years, and nothing showcases this better than a long sheet of shiny hair.
I wanted to take on the perception that women need to have long hair in order to be considered sexy. I wanted to prove that I can be a sexual, confident woman without my dark blond curtain.
I hid behind my hair in high school.
My bathroom drain was clogged with hair.
My partner found long blond hairs in his laundry and wrapped around his nuts, even when he hadn't seen me in two days.
I wanted to give a blowjob without dealing with wads of hair in my mouth. Even with my hair in a ponytail, it still manages to creep in there and be incredibly distracting.
I wanted to explore the shaved head sexually and sensually. I wanted to see what it felt like to have my head rubbed with lotion while I masturbated. I want to experience all those hidden nerve ending and radiant erogenous zone.
This was how I actually look bald.
I wanted to walk down the street on a breezy day and be able to see where I'm going. My hair has this annoying knack of blowing right across my face like a blindfold.
I wanted to ride in a convertible this summer more carefree than I ever have before!
I wanted to have one less thing to worry about. Having long hair is almost like having a pet!
I wanted to explore a new fetish – hair fetish, long hair, shaved head, haircutting – it was a whole new arena. You know me – I don't just research and report fetishes, I try them on for size. Some of them have been pretty extreme.
I wanted to face my fears.
Just the thought of shaving my head made my heart beat fast – was it as scary as I imagined it would be? Would I need therapy afterward? Was it that big a deal?
Finally, it seemed like a unique fundraiser theme. My custody battle is still going on, and a scalping was in order. I envisioned it as a wicked fetish performace, burlesque with a razor.
Throughout history, women have had their heads shaved as punishment for being witches, for sympathizing with the enemy in war, for adultery. It was nervewracking enough to do it on my own terms; I can't imagine having it done to me as an act of cruelty.
This was my connection to them, my own personal For Whom the Bell Tolls. I was experiencing a modern day slut shaming, being regarded as subhuman and not fit to hold a job or raise a child.
I look forward to experiencing all the different ways I'll look as it grows back. I want to play around with wigs, but just for costume purposes, not to hide.
If you're interested in details surrounding the actual headshave event, please read this post.
I plan on writing a book all about the great hair experiment – it will be called Rapunzel's Razor and will detail the history of my hair, feminism, sexuality, and feature other bald beauties and their stories.
For now, I shall GROW forth and prosper, and will continue to share my feelings on the after effects. I've been so surprised at people's reactions, mine included! Truly an amazing experience. I'm glad I did it.