By Kendra Holliday | March 24, 2014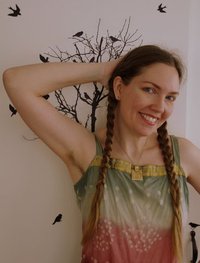 I love my hairy underarms!
I love my hairy underarms. They're like having two more pussies. Most days I'd rather have my underarms caressed than my nipples tweaked.
My body odor has been better since I stopped shaving under my arms. Interestingly, my partner Matthew's underarms are almost completely hairless and he never has B.O.
Do you know any women who don't shave under their arms? (I like the word "underarm" better than "armpit.") Furry Girl and Sequoia Redd come to mind, but I keep discovering more and more women who flaunt their feminine fur with pride!
I've been experimenting with my YouTube channel, and was surprised that the clip that has received the biggest response was the one about my hairy underarms.
Here is one message I got from a huge hairy fan:
Thank you so much for posting your vid about not shaving. It shows that you have a mind of your own and are not afraid of using it. I am a guy who has ALWAYS appreciated and respected members of the opposit sex who refuse to conform to America's "perspective" on how females in this country should maintain their bodies based on advertising and beauty expectations.

It is so sad and tragic that 90% of the teenage females in this country allow theirselves to be brainwashed into believing that it is "normal" to remove something on their bodies which is there by nature and evolution so as to meet false standards that their peers believe in.

While I respect the right of anyone, male or female, to do with their bodies as they wish, I know from personal experience that the females that I have been involved with both as friends and in relationships that have chosen to remain natural invariably have always been on the whole much more enlightened and possesed a self-educated intelligence that I just haven't found with females who are conformist.

I myself have always appreciated natural females from the time I was in my early teens. I don't know why. It was just a switch in my brain that opened up a door at a very young age for some reason and that door has always stayed open thankfully.

I absolutely love to touch, finger, lick and smell underarm hair on a woman and if she has or is sweating under her arms espescially if no anti-perspirant/deodorant is being used. My brain WILL make my manhood go from flaccid to huge in about 2.5 seconds and that is the honest truth! That will give you an idea of what pherenomes and underarm hair on a woman does to me.

I have to say though that of the many females I have been involved with who're unshaven, 1) Very few used deodorant/anti-perspirant and 2) the only time most of them really sweat under their arms that I witnessed was during our lovemaking sessions, which was/is perfectly fine with me as the scent and sight not only turns me on as you know, it lets me know a certain part of my anatomy is doing it's job.

Yes, like the friend you spoke of in your video in the swimming pool, it is first and foremost a sexual attraction at the base level. But, beyond that it impresses me to see a woman who does not shave, whatever her reasons, display it in public with openess. It speaks volumes about her self confidence and the comfort that she has within her own mind as well as her body.

You look very beautiful, sensual, and intelligent. I congratulate you on your choice and very much hope that you decide to remain this way.
What a pleasant – and unexpected – reaction to my little social experiment! (You can see me on this hairy underarm tumblr!)