By Kendra Holliday | January 26, 2012
Remember this video I did last month where I showed off the dress from Sin City Playwear I was supposed to wear to my Hustler magazine party?
Yes, this one:
It's "one size fits most", but it looks like a shirt, doesn't it? Or maybe a onesie for a baby?
I decided it would be sexier if I wore a bandage on my thumb, so I enlisted a friend who could pull this scrap of a dress off.
Meet Ashley:
I figured if she strutted around the party wearing the dress, it would take the pressure off me.
I am so smart.
My very talented friend (the same one who sings the TBK theme song!) gave me a classier (read: age-approrpiate) dress to wear, and did my hair and makeup until I looked like Annette Bening. See? She's good!
We set up camp at the Hustler store on Natural Bridge Road.
I did not feel like the same woman who was featured in Hustler magazine, and I did not resemble her, either. I traded in the hippie hair for something more sophisticated.
Here is a censored version of one of the pics in the article:
Here's what the censored version looks like when you ask a smartass like Cap'n Marrrrk to touch it up:
The blue-bearded bastard gave me a merkin with his mug on it!
Hustler store = amazing hosts! They offered a glorious array of sexy products, and everyone got 20% off their purchase. In addition, they had three bags of awesome toys to give away to attendees that contained awesome toys such as glass dildos and a spiderweb restraint system. They also put out a fruit and cheese tray next to a fanned display of the magazine. Photographer Connie LaFlam brought along her own entourage.
I didn't want to autograph anything – that makes me feel really weird – but if someone asked, I did it, and I did it in all-block letters across my artificially hairless armpits so it looked like a 3rd grader signed it.
About 30? 40? 50? people showed up to the party throughout the evening. Some were good friends, some were from the SEX+STL community, and some were NEW BLOOD! YESSS!!!
David Wraith took pics for us, bless his soul. Here's the one he took of Ashley and me:
Here's a pic of Ashley rockin' the dress: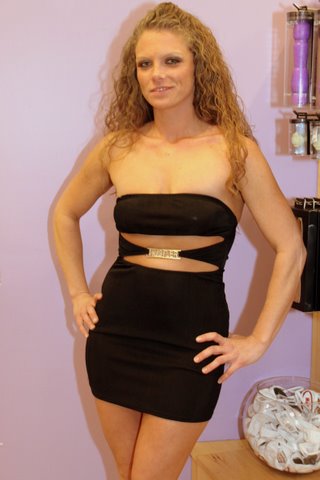 I begged David to get a closeup, and he obliged:
Don't you want to bounce quarters off it?!
Men swarmed her so bad it was funny/stupid – she could have collected dicks like a headhunter that night. She was like mama duck and they trailed behind her like darling drooling ducklings. She had to tape the dress to her thighs, because with every step it wiggled up her hips as if coaxed by the ghost of a pervert.
She wore six-inch cobalt heels and had only her amazing mane of curls to keep herself warm. She giddily confided in me that she felt like a "slutty Cinderella" and would definitely wear the dress again – with jeans next time.
I autographed a woman's breast – a first for me – and had to resist the urge to sign HER name instead of mine.
People treated me like a celebrity, which was surreal. They looked at me funny, as if they were trying to figure out if I was a powerful sex symbol, or merely ordinary. My dad ran around telling people who he was – he always gets a kick out of that. I'm so fortunate to have a family that's proud of what I do.
This one guy who spied on me peeing at a party (why he felt the need to spy on me when there were 50 naked people downstairs is beyond me) lurked behind a display of dildos for a while until he finally saw that I was somewhat alone. He took that moment to approach me, which made me feel cornered and uncomfortable. He asked me when the next party was, but before I could say, "You're not invited," my partner Matthew came up to us, which caused the creeper to scurry away. No doubt he thought he was going to get bounced.
Lots of dear friends were there, including SEX+STL co-founder Anna, and David Wraith's girlfriend Elaine, who GIFTED ME WITH THIS PAINTING she did of me:
Two of my latest crushes, Shine and Dan were there, as well as Chad and Steffy, aka Rockabilly Couple!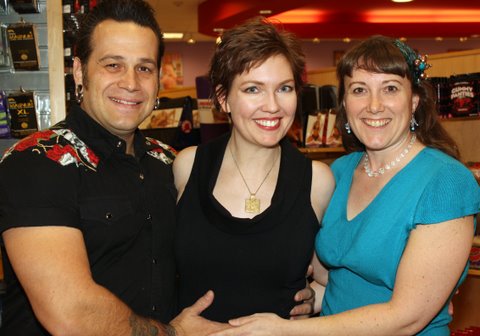 Doesn't this pic look like we're having a baby together?!
God it was an amazing whirlwind night!
After we wrapped it up there, we went to a friend's house for an afterparty, where we got nice and drunk.
Then Matthew and I went home and fucked passionately and passed out.
In the morning, we fucked three more times – in the bed, shower, etc. I felt like our sex life was a chapter book! One where we live happily ever after…
And you know what? Two parties, 50 friends, one creeper, a bout of mini-porn-mag-celebrity, a bottle of wine, five hours of sleep and four fucks later, I managed to get to work 15 minutes early.
Now THAT'S Responsible Hedonism, people.