By Kendra Holliday | June 19, 2021
Here we go again. I thought all my friends, lovers and clients knew, but since I just got ANOTHER ONE… 
😫

I do NOT like receiving unsolicited cock shots.
I don't care if I'm a sex worker.
I don't care if you got carried away.
I don't care if I've played with your cock.

I don't care if I've had it in my mouth.
I don't care if you are someone I've been fucking with for years, or are brand new and exciting.
I don't care if you are Barack Obama. (Note: My point is, he would NEVER do that. Anthony Weiner, however, WOULD.)
If you send me a cock shot, it's like a slap in the face, an instant turn off, and an online assault, and I will fine you $50 and demand an apology if you ever want to interact with me again.
It's all about comfort and context, people.
Wait, no…MEN.
I challenge you to comment if you've never sent a cock shot, or wish to publicly apologize for sending a cock shot. Or feel completely justified in sending a cock shot.
So, without further ado…
Wanna know the quickest way NOT to get under my skirt?
Think dealbreaker, hard limit, red flag, turn OFF.
OK, besides wearing ugly footwear or torturing small mammals.
Send me an unsolicited cock shot.
Is this what men imagine their cock shot looks like?
or this?
or this?
Guys. Here is what it really looks like:
Only WITHOUT the dandelion.
or sheeeezle glop berf~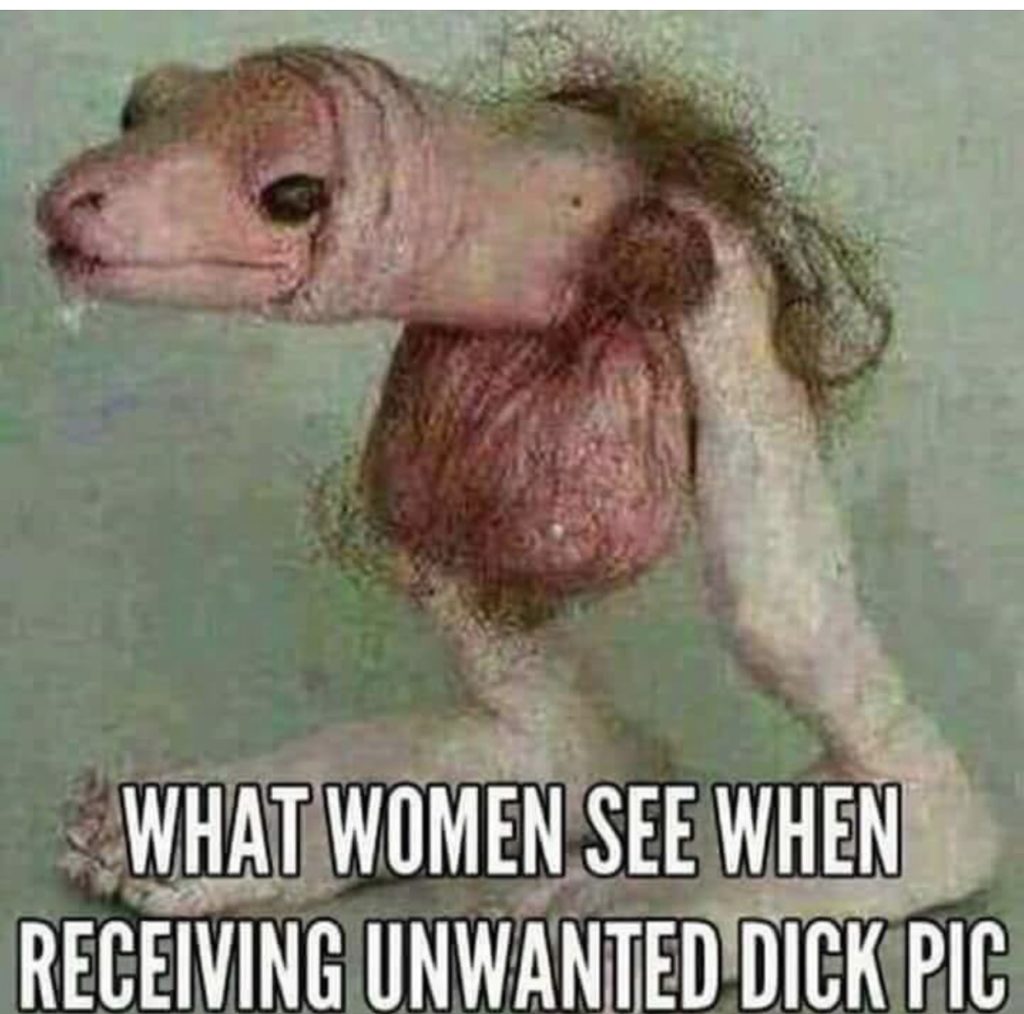 Is this how men imagine I react to a cock shot?
or this?
Or this?
Here is how I really react:
Here is what I would rather get from you than a cock shot:
MONEY.
Here is when I will ask you for a cock shot:
NEVER.
Why do some woman have an issue with pictures of the Male genitalia ???? Is this not all about sex?? I for One expect my submissive to crave my sex as much or more than I crave theirs. Am I missing something??

~Guy on FetLife
Yes. Yes you are missing something. COMMON SENSE. If you show me a disembodied random cock shot, I'm not going to be turned on.
Because I'm a woman.
A cock shot is not just an "unwelcome intrustion" – it's online sexual assault.
It can be violating, even traumatic for some women.
GAY MEN like cock shots and get aroused at the sight of them. But it is NOT the way to seduce a woman. I want a face and a voice attached to my man meat. I'm not a prude. I love cock. I like cock in real life. I'm especially fond of my lover's cocks.
But for it to be my first impression of some random guy – it ain't gonna cut it. That's like going straight to fucking without foreplay. It's crass. Same with online profiles that sport penis pics. (The one laid out next to a ruler to show how big it was gave me the best laugh.)
When I see a pic of an erect penis, it doesn't say to me, "I care about your desires and want to turn you on." It says, "HEY LOOK AT MY DICK! IT'S THE CENTER OF THE UNIVERSE! I'M THINKING ABOUT MY DICK RIGHT NOW. WHEN I LOOK AT YOU, I THINK ABOUT HOW GREAT YOU WOULD MAKE MY DICK FEEL. I'M NOT VERY GOOD IN BED BECAUSE IT'S ALL ABOUT MY DICK. LET'S CUT TO THE CHASE – I AM A DICK!!!"
As far as I'm concerned, nothing wonderful develops from a cock shot. The moment you get hit with one, it's downhill from there. It's thoughtless, predictable, and tacky.
My man is against them too, so if you send me one in the hopes of turning me on and fucking me silly, not only will it put me off, but it will put him off, too, and then it's game over.
In fact, just the other day, a woman sent him a pic of her pussy, and then requested a picture of his cock (SOLICITED COCK SHOT), but he declined, stating, "The first time you see my cock will be right before it goes in your mouth." And that's exactly what happened!
To all you clueless men out there who have assaulted my sensibilities with an unfortunate move down the humanity scale: Here is MY cock shot.
See what I mean? Is that hot, or not?
Women: Do YOU sit around and masturbate to pictures of random penises? If a guy contacts you and his page is full of creepy cock shots, does that make you say, 'WOW this guy has something special!'
Um, no. EVERY dude has a dick. He's going to have to offer something besides that if he wants me to take notice. A guy who showcases his dick is telling me he's full of himself, immature and misguided. Leave something to the imagination. If you're going to give me a present, don't be tacky and unwrap it and play with it first!
A guy I really liked and was interested in just sent me cock shots, which ruined the vibe for me, but it inspired this post, so I'm really glad it turned into  a snarky teaching moment. From now on, I'll have this post to fire back at any guy in the future who sends me a picture of his dick. Because just like the ocean tide ebbing or the sun rising, IT WILL HAPPEN AGAIN.
READERS: I'd like to know your take. If you're a man, have you had success getting laid just by flashing your dick at unsuspecting women? Women, does that do it for you? How do you respond? Do you send a diseased cock shot back, figuring he must like that kind of thing and you want to return the favor?
Here's the pic I'm sending the next guy who sends me an unsolicited cockshot pic.twitter.com/oxxAs5NGyG

— Kendra Holliday (@TBK365) November 28, 2015