By Kendra Holliday | February 19, 2015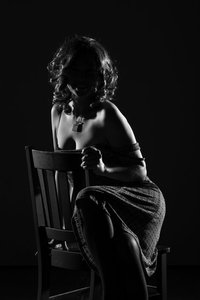 Are you obsessed with
the wrong person?
"Love is a human religion in which another person is believed in." – Robert Seidenberg
I have two close friends who are suffering from limerence.
From Wikipedia:
Limerence is an involuntary cognitive and emotional state in which a person feels an intense romantic desire for another person.

Some of the components:

– Intrusive thinking about the limerent object. (Note the word "object" used here when referring to a human being. The thoughts become pretty possessive.)

– Acute longing for reciprocation.

– Unsettling shyness in the limerent object's presence.

– Intensification through adversity.

– Acute sensitivity to any act, thought, or condition, with one's mood being affected by the limerent object's actions.
I've experienced limerence many times in my life. The first time was in 5th grade when I freakishly obsessed over Michael Jackson. The second time was in 7th grade when I became obsessed with Duran Duran. I thought about Simon Le Bon's sperm a little too much, let me tell you.
When limerence is mutual, it's magical. It's New Relationship Energy. It can fuel you for weeks, even months, until you get to a more simmering, contented love destination.
When limerence is one-sided, that pretty much puts you in the "stalker" category. One-sided limerence cloaks a person in delusion, false hope. You're lovesick. When you're under the spell of limerence, you are never bored. Nor are you mentally healthy. Your energy is being channeled down a dead end street.
Both of my friends are men in their 50's who spent three years building an intense, emotionally relationship with younger women who unconsciously reminded them of people they lost and desperately wished to rescue – one was a drug-addicted brother; the other was a mentally ill wife.
I have recommended both of them seek therapy, and read the book Love and Limerence: The Experience of Being in Love
, by Dorothy Tennov, as well as the book Crazy Little Thing: Why Love and Sex Drive Us Mad, by Liz Langley.
Unfortunately, limerence can linger for years. It's very difficult to break the spell. Things you can do to cope:
– Do not contact your limerent object. He or she does not want to hear from you. Leave them in peace.
– Journal, write, start a private blog.
– Get rid of all the stuff that reminds you of your limerent object. Remove the jewelry, Burn the cards in a symbolic ritual. Delete the photos from your hard drive.
– Surround yourself with good people who have positive energy. Join a church or community center. Recognize that you are loved.
– Focus your energy on helping others. Foster rescue dogs. Plant a garden. Take a painting class. Nurture and create. There are plenty who appreciate what you have to offer.
– Be kind to yourself. Don't beat yourself up. Imagine a close friend in your shoes. What would you say to them? How would you support them?
And this tip might sound immature and petty, but it helped me out the last time I mooned over someone who didn't want me – remind yourself of all the things you don't like about your limerent object – the fact that they smoked, had ugly feet, never had time for you, couldn't save money and get their shit together. Now is the time for a realtiy check.
Take off the blinders and see the truth. Be open and honest with yourself.
It's the first step to freedom.
———-
Photo by Steve Truesdell