By Kendra Holliday | March 23, 2012
I would look better with my top off.
Today is my birthday. I am 40 years old.
Actually, I'm 39, but I don't care for odd-numbered years, so I round up.
Therefore, I will be 40 for two years, just like I was 38 for two years.
This website is about to undergo another change.
You may not have noticed, but I haven't posted an update in days. I sure as hell noticed. I don't feel right if I don't publish something highly personal or important to me at least once a week. So I feel somewhat out of sorts.
It's been super busy, in a very good way. I work full-time, and pick up as many consulting gigs as I can in the evenings. Plus, there is my daughter and misc. sex-positive events to host. Oh, and friends, lovers, and family.
And I still want to write books – in my queue is a sex toy guide for women, as well as my take on motherhood and sexuality.
But back to this website.
We tried to get The Beautiful Kind to become a business, complete with ads, revenue, and more writers.
Alas, it didn't work out.
So, we're going back to a blog format, which means I can be more myself again, instead of trying to cater to the masses.
For the past year we tried to clean this site up, scaling way back on the nudity in order to make it more classy and mainstream.
To celebrate reverting back to the classic TBK, I present you with a series of pics celebrating my birthday suit. This is the only place I can share it – facebook will flag a nipple, my twitpic account got suspended – I swear 85% of the population is scared of nudity.
But I'm not.
Are you?
Let's state with the first nude pic ever taken of me. I was one month old.
Will I get busted for child porn for posting this pic of me?
I better skip any nude pics I have of me from ages 1-18 then, just in case. Actually, I'm pretty sure I don't have any. My family was not into nudity.
But I did bust out and become a stripper at age 19. Here is one of my Glamour Shots headshots from those days. CAN YOU BELIEVE IT???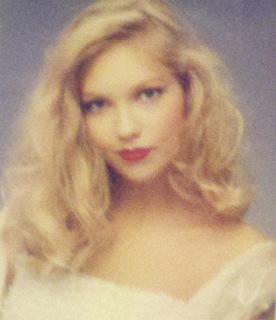 This pic has me wrapped in white gauzy fabric, but believe you me I was plenty naked that year, on stage and on display. AS A TEENAGER in the East St. Louis sex industry.
No wonder it took me years to recover.
I have to admit, I was not properly equipped to handle all the men 10, 20, 30+ years my senior trying to pressure me into doing things that made me seriously uncomfortable…
A pic of me when I was 20, doing one of my favorite things – being naked outdoors (it was cold!):
Moving right along, I spent most of my 20's as a married monogamous vanilla wife and mother. There are no pics of me naked during this time, although I am pretty sure I was naked at some points.
Here are some amazing pics of me pregnant  and costumed during that time!
Close up of the belly that housed my amazing daughter for 40 weeks: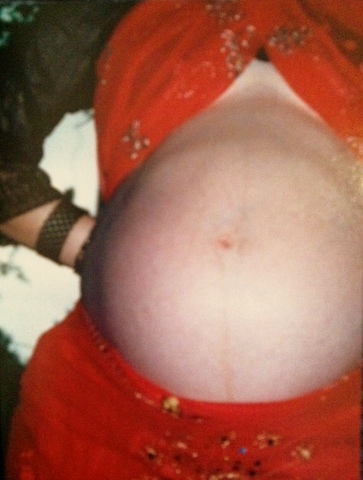 Lucky for all of us, I got divorced when I turned 30, which I means I started exploring my sexuality in earnest. Here is a tiny sample of photos from this last decade:
This is one of the pics I used for my first swinger profile:
This is my favorite photo of my body, taken in a sun-dappled meadow in the country:
A picture of David Wraith and me taken at a recent party:
See? You don't need to run around like this:
It"s alllll good. (wish I was chillin' with my girlfriend Steffy more often!)
Love to you and your body! I know I love mine!